I never get tired of looking at other people's furniture : )
I love painted furniture, before & afters, cottage & shabby chic decor
Inspired by other bloggers...
I painted my dining room furnitiure white
of the rooms in my home look like these below
Bravo to you, you talented ladies of blog world for creating such awesome spaces & furniture - It is more than just white paint...
Paint It White
Forgot where I found this ?
Frosted Gardner
Miss Mustard Seed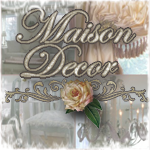 A Diary of Lovely
http://adiaryoflovely.blogspot.com/2009/12/georgian-london-house.html
Amazing Transformation
http://chloescouture.blogspot.com/2009/01/my-shabby-chic-projects.html
http://myfinerconsigner.blogspot.com/2010/07/we-heart-burlap.html
Censational Girl Blog
http://www.centsationalgirl.com/category/before-and-after/
Thank You to my Sponsers